SAHARA'S STORY

Sahara's family love their adventures - from paddle boarding to long walks on the beach or going to
explore a new park. Sadly, those adventures stopped after seven-year-old Sahara was diagnosed with a brain tumour.
Their lives are now consumed by hospital and treatment,
fear and worry. The diagnosis was devastating for the close-knit family of five. Mum Michelle and dad Jamie split their time to be by Sahara's side in the hospital, while also trying to be around for their older children Caitlyn and Tim. Sahara now relies on a wheelchair to get around and is learning to walk with a walker. She battles fatigue and can struggle to communicate.
Sahara misses out on all the things she used to love doing, like playing with her friends after school.  Getting out and about can be extremely challenging.
"As a family, we would go out and meet up with friends, go jet skiing or bushwalking, now we don't do anything
like that," Michelle said.
Thankfully, there have been moments of happiness amid the gruelling rounds of treatment. When she's in hospital Sahara can escape to the Starlight Express Room and have fun with art, craft, games and movies.
Her mum said: "We cannot visit the hospital without visiting the Starlight Express Room. It's one of the only times Sahara gets to go anywhere fun and where people don't stare or ask questions about her
health."
Sahara loves that there are so many different things happening in the room and seeing Captain Starlight
always lifts her mood. Michelle said the Starlight Express Room helped give her a break from the mental anguish of caring for a sick child in the hospital for months on end."When days were long, boring and painful, there was always something to look forward to. It gave me a few minutes to just breathe and that break was very much needed."
Starlight Express Rooms are a vital haven for families like Sahara's, but they only stay open thanks to the generosity of Starlight supporters.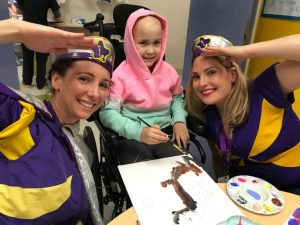 Starlight Children's Foundation brightens the lives of seriously ill children, adolescents and their families by replacing pain, fear and stress with fun, joy and laughter. Since its establishment in 1988, Starlight has expanded to become the broadest reaching children's charity in Australia and is rated 5th Most Reputable Charity in Australia (AMR Charity Reputation Index 2018).
Last year Starlight created over 574,874 Starlight experiences for seriously ill children and their families and granted 531 life-changing Starlight Wishes. There is a Starlight Express Room in every children's hospital in the country and more than 160 Captain Starlights nationwide.
Starlight's programs are based on the principles of positive psychology and support the overall health and wellbeing of seriously ill children and young people.
You can read more amazing and brave child stories and all the wonderful and supportive things Starlight is doing for these children and their families here: https://starlight.org.au/what-we-do/our-stories