Well, where do we start?
What a day Gold Coast. 
Taking place on August 18th at the picturesque Broadwater Parklands, our Gold Coast event was a glorious sight to see and a day not to forget
With a staggering 7,500 excited Color Runners dancing through the gates on the day, the positive energy and crowd engagement was felt in every way!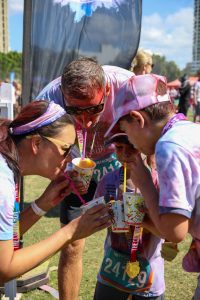 While the first waves of runners took off around 8.30am, our stage entertainment came alive. Our amazing dancers from DS Agency covered every inch of the stage with their unreal performances. There were flips, handstands, spins and twirls, while the crowd absorbed their energy and shot out their killer moves. With the sun blessing the grounds the entire day, the Village area provided all the needed snacks, hydration options and shade for all participants. Our Slurpee machines were just one of the crowd favourites, quenching Color Runners thirst with their generous 4 flavours on offer.
With the happiest 5k completed, Color Runners stocked their hands and bellies with the freebies on offer in the Village and headed to the finish festival to party the rest of the day out!
Up on stage, DJ Coldeed provided the groovy beats all day accompanied with the Big Voice of DJ Tallie, energetic Simon Mallory and our wonderful Captain Color Simone. With the ultimate crew leading the crowd, the epic Color Throws were ready to begin! Words do no justice of the atmosphere and site of our epic Color Throws so the photo below should be able to provide an aesthetically pleasing visualisation of this moment.
Overall, The Color Run Gold Coast was full of LOVE and COLOR and we couldn't have asked for a more inclusive, positive and energetic crowd! With the cheering, laughing and group conga lines, how could we ask for a better result?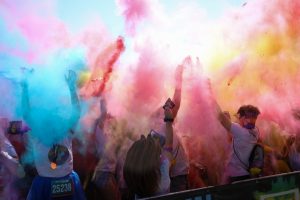 Gold Coast, a very big THANK YOU for kicking off our Love Tour with a great, big TICK! We hope to be running and partying again with you very soon!
Your Colorful Friends,
- The Color Run Crew